Hong Kong: thousands of protesters and police gather as extradition debate looms | World news
Thousands of demonstrators have gathered in Hong Kong as the city braced for fresh protests and politicians prepared to debate extradition legislation critics fear would let China spirit its political critics across the border.
A citywide shutdown is expected on Wednesday after hundreds of businesses, parents and teachers called for a boycott of work and classes to show their opposition to the proposed bill, which would allow mainland China to pursue fugitives in the former British colony.
The law is due for a second round of debate in the 70-seat legislative council. The legislature's chair, Andrew Leung, said on Tuesday he would limit politicians' debate on the extradition bill to 61 hours, meaning it could be put to a vote on 20 June, reported RTHK.
Fresh demonstrations began on Tuesday night after an online petition called for 50,000 people to surround the legislature at 10pm on Tuesday and to stay until Wednesday morning. Protesters planned to stage the overnight demonstration just outside the legislative council in Admiralty district but authorities closed the designated protest area and cordoned off a nearby lawn at Tamar Park, outside the legislative council. Large numbers of police in riot gear were deployed to the protests.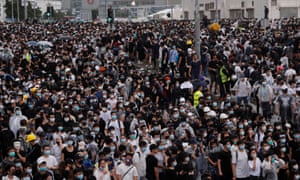 Protesters, blocked from the demonstration zone, filled the streets outside the legislature and the government headquarters. Police searched cars and bicycles and surrounded protesters but the situation remained calm. Sounds of the hymn Sing Alleluia to the Lord wafted through the air, sung by a group in the crowd.
Demonstrators at a nearby underground station argued with police who were searching bags and checking the IDs of those attempting to reach the protests. A crowd gathered and chanted slogans calling on the police to leave.
Hong Kong's top political leader urged people to refrain from "radical actions" as hundreds of small businesses pledged to close on Wednesday. The businesses are mostly small retailers, such as cafes and book shops,, but also include tutorial schools, publishers, interior design and IT stores, opticians, and dental and medical clinics.
Unions as well as groups representing parents and teachers called for a boycott of work and classes so that people could join protests outside the legislature. The pro-democracy Hong Kong Professional Teachers' Union called on members to join the protest on Wednesday and urged schools to allow teachers time off. Student unions of seven universities and colleges also said they would boycott classes and join the protest.
Several churches said they would hold meetings to pray for the city's leadership and peace for Hong Kong.
The Hong Kong aviation industry gathered 1,700 employees' signatures in an online petition to demand its union initiate a strike to urge the retraction of the "evil" amendment. While the union of the New World First Bus company condemned the government for ignoring citizens' voices and urged its drivers to drive slowly on Wednesday. The pro-democracy Hong Kong Confederation of Trade Unions, which has 190,000 members, also urged its members to stay off work for the day.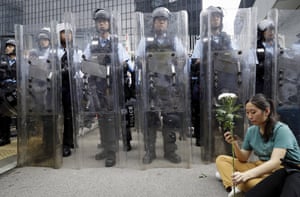 Protesters have expressed concerns that the civil rights and freedoms guaranteed to Hong Kong under the "one country, two systems" arrangement will be quickly eroded under the new law as China often uses non-political crimes to prosecute its critics. Others worry that those tried in Chinese courts would not be guaranteed due process.
Despite the outpouring of opposition, including a march on Sunday that drew hundreds of thousands of people, Hong Kong's chief executive, Carrie Lam, said she remained determined to pass the law.
"To oppose this bill, some have called for radical actions," Lam said in a media briefing, referring to clashes between protesters and police outside the legislature shortly after midnight on Monday, after a largely peaceful, nine-hour protest.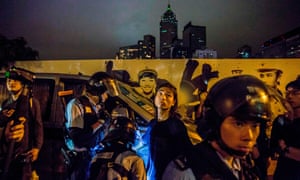 She added: "No civilised society would want to see youngsters being pushed to the frontline to take radical actions. I urge schools, parents, organisations, corporations and unions to think about this carefully – if they call for radical acts, what good would it do for Hong Kong society and our youth?"
Lam's admonishment underscored the government's anxiety about the unpopular bill. In anticipation of large protests, the secretariat of the legislative council closed the designated protest area outside its building due to "high risk" that it would be stormed by protesters during the upcoming meetings on the extradition bill.
The legislative body is dominated by pro-Beijing politicians, making it more likely the bill would pass. Supporters of the bill stressed it would only apply to those involved in serious crimes, while Beijing claimed that opposition leaders and "foreign forces" had misled the public.
Regina Ip, chair of the New People's party who is in support of the bill, said of the demonstrations on Sunday: "It is hard for the government to withdraw or delay introduction of the bill in the absence of firm arguments supporting alleged damage to the rule of law in Hong Kong."
She added: "Yesterday's protest was not the first; nor will be the last … Once it has been passed, people would slowly recognise that every surrender request will be handled in accordance with common law principles and Hong Kong's rule of law will be vindicated."


Sahred From Source link World News